According to statistics, there are over 50 million users on Tinder. That's a lot of fish swimming around looking for a hook (up). In order to stand out from the crowd, you're going to need to strategize. The first thing you need to know is that on Tinder, your profile is everything. And since the bio is a very important part of your profile, then it's a no-brainer that it needs to be good. Really good.
But, writing Tinder bio is so stressful, right?
Wrong! Writing your Tinder Tagline shouldn't be as long -nor as stressful- as the process of writing a thesis.
This is just about people getting to know you and you getting to know people. I know sometimes it's difficult to know what to put there and what to leave out, after all, the most likely thing is that no one will read if it's longer than a small paragraph but you don't want to seem like you don't care.
15 Best Tinder Bios of 2019:
Make it inviting. Remember, the idea is to get a reaction even before you guys are talking.
So by giving information about yourself, she might see that you guys have something in common and she will be interested.

Seems like a lot? Worry not, here I'll show you some helpful tools for writing your Tinder bio, and getting more right swipes and –surely- more matches. Let's begin!
1. Own Overconfidence
If you just can't bring yourself to stoop to the level of self-deprecation on Tinder, then try swinging things in the opposite direction. Be overconfident—like, over the top arrogant. Trust me, it's funny. And if you don't believe me, just take it from Jared:
The less impressive the thing is that you're over confident about (i.e. juggling, doing backflips, and winning over your mom's affections), the funnier your bio will be. That's the irony. Get it? Right.
Inside Scoop:Check here the list of 15 sexiest jobs on tinder.
2. The List
Now this is a wonderful method due to its simplicity. You can make a list in which you briefly index, let's say, no more than 4 things about yourself.
An addendum to this is putting also a very small list of things you would like in a partner, however, this last one is to be used carefully.
Remember not to put anything too explicit or too conditional, you don't want to come across as someone that's down to swipe right to everything nor as someone with extremely high standards or taking it way too seriously.
Inside Scoop: 15 Best Tinder Openers Proven to Work.
3. A Single Story comment
Uhhh, risky, but it can play out pretty well. The risk is that it doesn't give out much more information other than the basics, but this can certainly work in your favor as long as you make it sassy or funny as it makes you interesting from the first read.
Alert: You definitely need to have good pictures if you're going to go ahead with this one. That way your profile is way stronger and you can definitely jump in with this risky move.
Inside Scoop: Tips on Starting a Conversation on Tinder
4. Experiences list (With Twist)
Now this is a variation on the classic list and it's a good one because it gives a lot of information but in a very dynamic way. A good way to do this is putting firsts and lasts.
For example, you can create a list of firsts in which you include your first job, first concert, first movie that made you cry.
On the other hand, you can put a list of last book you read, last show you binge-watched or last place you traveled to.
The pros of this approach is that it gives information about you that people might relate to or they can ask you about, which is great for conversation starters or to make sure the conversation doesn't get stuck once you guys get to talking.
Inside Scoop: Tinder Profile Tips to make your Tinder profile too tempting to resist.
5. The choices (With Twist)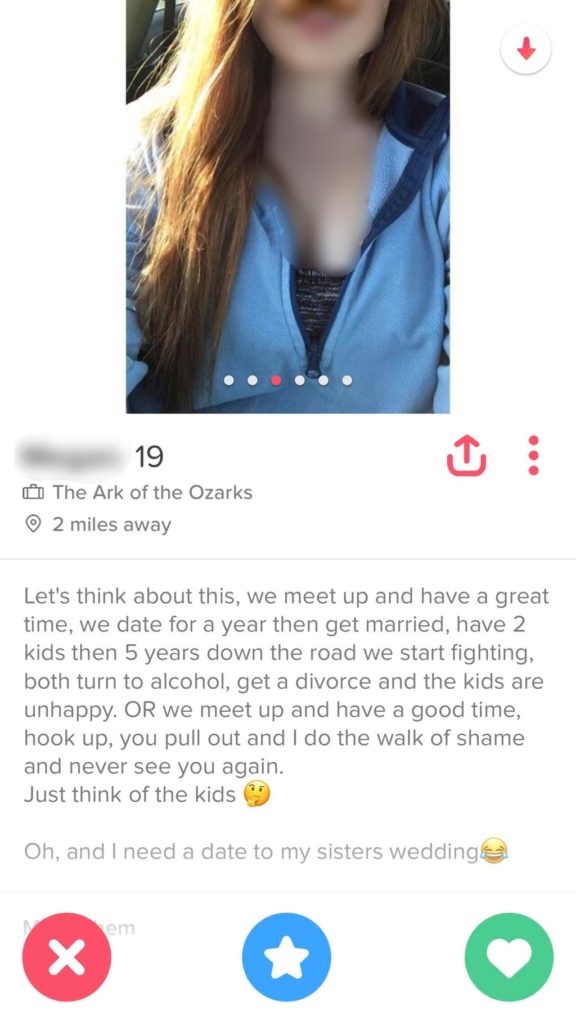 Now, this one is also great for giving –or asking- information in a dynamic way. You can put a set of choices and compare them to say which one you like best.
For example you can put "Cats or dogs? Cats" or "Beach or mountain? Mountain". Another way to do this is with the < symbol. That way you can just put "Dogs < cats" and it might seem even cooler.
Whichever you prefer, it's a good way to give information, conversation topics and you can even end it with a "and you" that can work wonders for your swipe-righting chances!
Inside Scoop: Tinder Profile Examples For Men
6. Pros and cons
This last version of the list is really practical too. You can put a list of maximum 3 pros and 3 cons. Make the pros as truthful as possible and the cons as funny as you can.
That way she will be attracted to you for things that you actually can do or actually are and she will find you funny as well (and let's be real, there's no need to put the cons out there so soon!).
So again, you give information that can be used as a conversation starter and you let it show that you have a good sense of humor, and who doesn't like to laugh?
A little of self-deprecating humor (and I do mean just a little) never hurt anyone. The thing about moving the spiders is adorable, and it gets him to start interacting with whomever is reading his bio even before they start talking.
The cons are all super acceptable, funny things. Again, there's no need to be too literal and put your darkest and deepest secrets in your Tinder bio!
Inside Scoop: 12 Reasons Why Your Tinder Profile Sucks
7. The joke
Now, don't try this at home if you don't have a great sense of humor! And I don't mean that you think you are funny, unless all of your friends say that you're a very funny guy, do not try this (and do not listen to them if they are all men, sorry, not sorry)! But if you are then you are in luck!
A good way to get attention is by making your bio an elaborate joke. It can be about how her dating you will be a huge favor –in a funny, not pitiable way- or about how you are a machine and explain your different attributes as if you were reading an instruction manual.
The options are endless, as long as you are creative and funny.
8. Emojis
Did you know using emojis in Tinder bios leads to more matches? This fact was published on the dating app Clover's data study.
Now that you know about it, then whyn't use it to your advantage?
The idea is simple here: Just use emojis defining yourself or something you're interested in. null
9. Magazine "QUOTES"
While this one is a very funny approach it has gotten a little overused and might come across as unoriginal. So if you go for this one, make sure to put some personal info there.
If you don't know what I'm talking about, I'm referring to these bios in which you put "reviews" from famous outlets such as The New York Times or People magazine. A funny way to change this is involving the other person.
For example, "the best son-in-law I ever had"-Your mom. This is a way to show humor while also creating a first interaction with the person that is reading your bio.
Now as you can see, the trick is to make it funny. You don't want to put a bad review of yourself now, do you? And the trick is to make it as absurd as possible, you can even be a bit outrageous…like saying you are the Da Vinci of your generation. This shows a good sense of humor and might get you a lot of right swipes!
Inside Scoop: Tinder First Messages Destined to Seal the Deal
10. The classic (Be Original)
Now, no one says that you need to do any of these. You can always write your 3-4 lines classic about how you like long walks at the beach, love dogs and are 6 foot tall, and you might get swiped right too.
But if you are not doing that well, you just got started or really, you just want to definitely stand from the crowd, the follow one of these tricks I just gave you and trust me, you won't regret it.

And as always, a final reminder to enjoy the road. Have fun! The good thing about apps like Tinder is that you literally end up with millions of options where to choose from and you have the opportunity to explore your dating style and see which one fits you best. No stress, just fun. Enjoy!
Inside Scoop: Now that you're familiar with what bios to use, here's the Best Tinder Pick up Lines to get your Match reply you back.
11. Downplay Your Accomplishments
Even if you're super successful, downplaying your accomplishments on Tinder can be a funny way to break the ice and make yourself more approachable.
Also, mentioning an accomplishment of any kind—no matter how small—opens up the potential for you and a match to find a common interest or talent. Science says that finding a commonality helps two people form bonds.
But if nothing else, it gives you something to chat about long enough to hold a decent conversation—which on Tinder can be an accomplishment all of its own!
For instance, what if this guy's match really likes the game of Kahoot?
Maybe she's won a game or two of her own! ???? It's a silly thing to have in common, but trust me, it's better than nothing. And it could be the start of a light-hearted conversation that could spark something more serious down the line.
12. Humble Brag
If you can find a humorous way to brag about your best qualities, then you're golden on Tinder! No one likes a narcissist, but tooting your own horn is a little more acceptable if you go about it the right way.
For example, this dude cleverly boasts about being tall while making fun of girls who care about height—joke's on you, girlfriend!
And who doesn't like a tall dude? For real.
13. The Corny Pick-Up Line
If you've got nothing else to work with, you can always get straight to the point and use a corny pick-up line in your Tinder bio. I mean, what's stopping you aside from your own dignity and self-respect?
If you're going to use this tactic, though, the rest of your profile needs to be on point (Read: You better be hot!).
14. Embrace Self-Deprecation
If you can embrace self-deprecation, you'll have mastered the art of laughing at yourself. And as a result, others will laugh at you too. In a good way.
Our buddy Pearce (below) has definitely learned to self-deprecate, and he knocks it all the way out of the park with his funny Tinder bio.
Lucky for Pearce, there's plenty of girls out there who prefer a laid-back guy with a dad bod over an uptight jerk with abs. There, I said it.
15. Pun It Up!
Puns are sure bets when it comes to using humor on Tinder. Even bad puns go over well, so you really can't go wrong with this kind of bio. It turns out that when it comes to puns, the extra cheesy ones are so bad, they're actually funny.
If you can get an eye roll from a potential match, then you're in there like swim wear, so to speak.
This girl Imani manages to score a Tinder trifecta by using a pun, a food reference, and a humble brag all at once. Check it out:
There's even the hint of a little something sexual here. Tantalizing, isn't it. Anyone else feeling hungry?
FAQ about Tinder Bio:
Why Shouldn't Keep Your Tinder Bio Empty?
It doesn't look good to tell us nothing about who you are and what you might like.
Iit shows a bit of laziness to be honest.
Besides, with so many fake profiles around, is better to let them know that you are human and that you are real.
Also, remember that your Tinder bio, together with your photos, is your letter of presentation. And no, you don't need to upload your résumé, but a little bit of information can go a long way.
Based on the data research, adding bio to the Tinder profile resulted in 69% increase in matches for Male profiles and 58% increase in matches for Female profiles.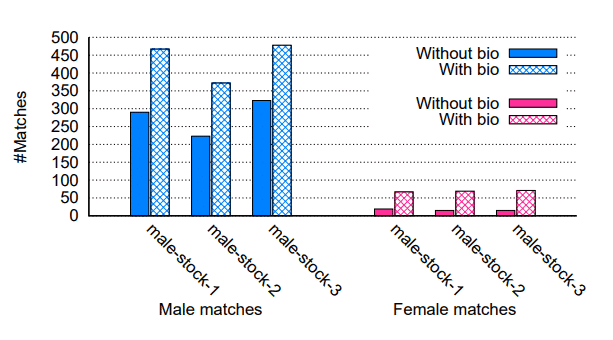 What you shouldn't put in your Tinder Bio?
Don't put negative stuff in your profile. Remember, the idea of Tinder is to meet someone, yes, but also to make it easier for everyone involved in the process, so there's no need to put nasty jokes or negative comments.
That'll get them swiping left faster than if your Tinder bio was empty.
When giving these funny Tinder bios a go, don't shy away from a little experimentation, either. If you try one type for instance, and you're not getting a lot of matches, go back and edit it. Then, try another on for size. It's that simple. Seriously, you should never underestimate the power of good old fashioned trial and error.